First published in 2019.
I am beginning this particular edition of The Book Trail with a travel book I read at the end of last year, and very much enjoyed. As ever, I have used the Goodreads 'Readers Also Enjoyed' tool to collate this list.
1. Sixty Degrees North: Around the World in Search of Home by Malachy Tallack
'The sixtieth parallel marks a borderland between the northern and southern worlds. Wrapping itself around the lower reaches of Finland, Sweden and Norway, it crosses the tip of Greenland and the southern coast of Alaska, and slices the great expanses of Russia and Canada in half. The parallel also passes through Shetland, where Malachy Tallack has spent most of his life.  In Sixty Degrees North, Tallack travels westward, exploring the landscapes of the parallel and the ways that people have interacted with those landscapes, highlighting themes of wildness and community, isolation and engagement, exile and memory.  Sixty Degrees North is an intimate book, one that begins with the author's loss of his father and his own troubled relationship with Shetland, and concludes with an acceptance of loss and an embrace — ultimately a love — of the place he calls home.'
2. Sea Room: An Island Life in the Hebrides by Adam Nicolson
'In 1937, Adam Nicolson's father answered a newspaper ad—"Uninhabited islands for sale. Outer Hebrides, 600 acres . . . Puffins and seals. Apply . . . ".In this radiant and powerful book, Adam describes, and relives, his love affair with this enchantingly beautiful property, which he inherited when he was twenty-one. As the islands grew to become the most important thing in his life, they began to offer him more than escape, giving him "sea room"—a sailing term Nicolson uses to mean "the sense of enlargement that island life can give you."  The Shiants—the name means holy or enchanted islands—lie east of the Isle of Lewis in a treacherous sea once known as the "stream of blue men," after the legendary water spirits who menaced sailors there. Crowned with five-hundred-foot cliffs of black basalt and surrounded by tidal rips, teeming in the summer with thousands of sea birds, they are wild, dangerous, and dramatic—with a long, haunting past. For millennia the Shiants were a haven for those seeking solitude—an eighth-century hermit, the twentieth-century novelist Compton Mackenzie—but their rich, sometimes violent history of human habitation includes much more. Since the Stone Age, families have dwelled on the islands and sailors have perished on their shores. The landscape is soaked in centuries-old tales of restless ghosts and ancient treasure, cradling the heritage of a once productive world of farmers and fishermen.  In passionate, keenly precise prose, Nicolson evokes the paradoxes of island life: cut off from the mainland yet intricately bound to it, austere yet fertile, unforgiving yet bewitchingly beautiful.  Sea Room does more than celebrate and praise this extraordinary place. It shares with us the greatest gift an island can bestow: a deep, revelatory engagement with the natural world.'
3. A Writer's House in Wales by Jan Morris 
'Through an exploration of her country home in Wales, acclaimed travel writer Jan Morris discovers the heart of her fascinating country and what it means to be Welsh. Trefan Morys, Morris's home between the sea and mountains of the remote northwest corner of Wales, is the 18th-century stable block of her former family house nearby. Surrounding it are the fields and outbuildings, the mud, sheep, and cattle of a working Welsh farm.  She regards this modest building not only as a reflection of herself and her life, but also as epitomizing the small and complex country of Wales, which has defied the world for centuries to preserve its own identity. Morris brilliantly meditates on the beams and stone walls of the house, its jumbled contents, its sounds and smells, its memories and inhabitants, and finally discovers the profoundest meanings of Welshes.'
4. Names for the Sea: Strangers in Iceland by Sarah Moss (review here)
'Novelist Sarah Moss had a childhood dream of moving to Iceland, sustained by a wild summer there when she was nineteen. In 2009, she saw an advertisement for a job at the University of Iceland and applied on a whim, despite having two young children and a comfortable life in an English cathedral city. The resulting adventure was shaped by Iceland's economic collapse, which halved the value of her salary, by the eruption of Eyjafjallajökull and by a collection of new friends, including a poet who saw the only bombs fall on Iceland in 1943, a woman who speaks to elves and a chef who guided Sarah's family around the intricacies of Icelandic cuisine.  Sarah was drawn to the strangeness of Icelandic landscape, and explored hillsides of boiling mud, volcanic craters and fissures, and the unsurfaced roads that link remote farms and fishing villages in the far north. She walked the coast path every night after her children were in bed, watching the northern lights and the comings and goings of migratory birds. As the weeks and months went by, the children settled in local schools and Sarah got to know her students and colleagues, she and her family learned new ways to live.'
5. This Cold Heaven: Seven Seasons in Greenland by Gretel Erlich
'For the last decade, Gretel Ehrlich has been obsessed by an island, a terrain, a culture, and the treacherous beauty of a world that is defined by ice. In This Cold Heaven she combines the story of her travels with history and cultural anthropology to reveal a Greenland that few of us could otherwise imagine.  Ehrlich unlocks the secrets of this severe land and those who live there; a hardy people who still travel by dogsled and kayak and prefer the mystical four months a year of endless darkness to the gentler summers without night. She discovers the twenty-three words the Inuit have for ice, befriends a polar bear hunter, and comes to agree with the great Danish-Inuit explorer Knud Rasmussen that "all true wisdom is only to be found far from the dwellings of man, in great solitudes."  This Cold Heaven is at once a thrilling adventure story and a meditation on the clarity of life at the extreme edge of the world.'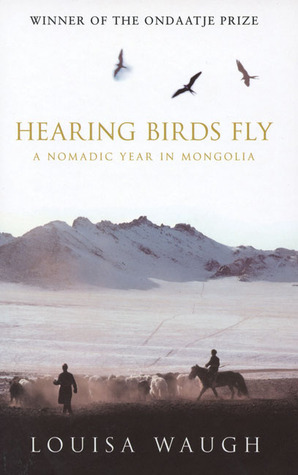 6. Hearing Birds Fly by Louisa Waugh
'Hearing Birds Fly is Louisa Waugh's passionately written account of her time in a remote Mongolian village. Frustrated by the increasingly bland character of the capital city of Ulan Bator, she yearned for the real Mongolia and got the chance when she was summoned by the village head to go to Tsengel far away in the west, near the Kazakh border. Her story completely transports the reader to feel the glacial cold and to see the wonders of the Seven Kings as they steadily emerge from the horizon.  Through her we sense their trials as well as their joys, rivalries and even hostilities, many of which the author shared or knew about. Her time in the village was marked by coming to terms with the harshness of climate and also by how she faced up to new feelings towards the treatment of animals, death, solitude and real loneliness, and the constant struggle to censor her reactions as an outsider. Above all, Louisa Waugh involves us with the locals' lives in such a way that we come to know them and care for their fates.'
7. Finding George Orwell in Burma by Emma Larkin 
'Over the years the American writer Emma Larkin has spent traveling in Burma, also known as Myanmar, she's come to know all too well the many ways this brutal police state can be described as "Orwellian." The life of the mind exists in a state of siege in Burma, and it long has. But Burma's connection to George Orwell is not merely metaphorical; it is much deeper and more real. Orwell's mother was born in Burma, at the height of the British raj, and Orwell was fundamentally shaped by his experiences in Burma as a young man working for the British Imperial Police. When Orwell died, the novel-in-progress on his desk was set in Burma. It is the place George Orwell's work holds in Burma today, however, that most struck Emma Larkin. She was frequently told by Burmese acquaintances that Orwell did not write one book about their country – his first novel, Burmese Days – but in fact he wrote three, the "trilogy" that included Animal Farm and Nineteen Eighty-Four. When Larkin quietly asked one Burmese intellectual if he knew the work of George Orwell, he stared blankly for a moment and then said, "Ah, you mean the prophet!"  In one of the most intrepid political travelogues in recent memory, Emma Larkin tells of the year she spent traveling through Burma using the life and work of George Orwell as her compass. Going from Mandalay and Rangoon to poor delta backwaters and up to the old hill-station towns in the mountains of Burma's far north, Larkin visits the places where Orwell worked and lived, and the places his books live still. She brings to vivid life a country and a people cut off from the rest of the world, and from one another, by the ruling military junta and its vast network of spies and informers. Using Orwell enables her to show, effortlessly, the weight of the colonial experience on Burma today, the ghosts of which are invisible and everywhere. More important, she finds that the path she charts leads her to the people who have found ways to somehow resist the soul-crushing effects of life in this most cruel police state. And George Orwell's moral clarity, hatred of injustice, and keen powers of observation serve as the author's compass in another sense too: they are qualities she shares and they suffuse her book – the keenest and finest reckoning with life in this police state that has yet been written.'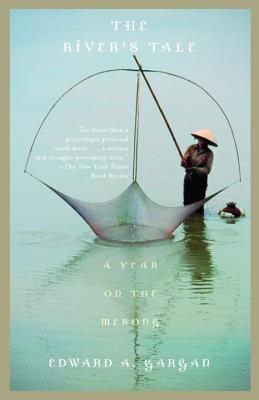 8. The River's Tale: A Year on the Mekong by Edward Gargan
'Along the Mekong, from northern Tibet to Lijiang, from Luang Prabang to Phnom Penh to Can Lo, I moved from one world to another, among cultural islands often ignorant of each other's presence. Yet each island, as if built on shifting sands and eroded and reshaped by a universal sea, was re-forming itself, or was being remolded, was expanding its horizons or sinking under the rising waters of a cultural global warming. It was a journey between worlds, worlds fragiley conjoined by a river both ominous and luminescent, muscular and bosomy, harsh and sensuous. From windswept plateaus to the South China Sea, the Mekong flows for three thousand miles, snaking its way through Southeast Asia. Long fascinated with this part of the world, former New York Times correspondent Edward Gargan embarked on an ambitious exploration of the Mekong and those living within its watershed. The River's Tale is a rare and profound book that delivers more than a correspondent's account of a place. It is a seminal examination of the Mekong and its people, a testament to the their struggles, their defeats and their victories.'
Have you read any of these books? Which are you planning to add to your TBR list?