A few months ago, I came to a dreadful realisation while I was browsing my bookshelves: the number of Greek literary pieces that I have read thus far is painfully lower than any English/American or Japanese ones. So, being in a slightly nationalistic mood, I decided to start mending this situation and indulge myself in some of the great literature my home country has to offer.
Do not let the title fool you, though. I will briefly talk about the 9 Greek books I managed to read this year so far, without it meaning these are the best among all Greek literary works. It is just a selection of 3 novels, 2 short story collections, 2 poetry collections, 1 play and 1 essay, randomly picked up from my shelves. I should also mention that, as far as I am informed, some of these works have not been translated to English (or any other language I guess), but I still thought spreading the word about them could probably benefit some people.
A quick disclaimer before I begin. The translations of the titles of all the untranslated books I present here are my own. By no means does it mean that these are official (or even entirely correct) translations of the titles.
I will begin with the novels first:
The Demon by George Theotokas
First and foremost, the title can refer to both a 'flair' someone may have towards something and a 'demon', as in the supernatural creature that supposedly exists to create trouble in our lives (I'm pretty sure the title would give any translator a major headache as to how it should be rendered as). Having said that, I immensely enjoyed this novel. It's a first person narration of a boy living his teenage and early adulthood years in a Greek island, Chios, where he meets the family of one of his closest friends and falls in love with his sister. Everyone in this family seems to have a flair for something (the father is a distinguished mathematician and the sister adores the works of Shakespeare and aspires to become a stage actress) but they also act strange (as if they are possessed) and a lot of trouble ensues. The novel is written in beautiful language and the descriptions of both places and the characters' feelings are glorious. It tackles themes such as dreams, death, family relations and friendship and it leaves you wondering whether this 'demon' that possesses all of us is truly responsible for everything that happens.
Now, this is what I call great crime fiction. The author is Greek, but he lives in Sweden and so his novel gives off a very 'Scandinavian' aura. The premise is quite familiar to all crime fiction readers: a police detective has undertaken the task of cracking the case of a serial killer who has gone berserk. It sounds simple and like something that has been done so many times before, but it is worth every single minute you invest reading it. I loved the plot, I loved the twists and, most importantly, I loved the writing.
Ecstasis by Menelaos Lountemis
Another beautifully written piece of literature. The plot is quite simple and at times it resembles more a philosophical or biographical text rather than a novel. The story starts with the chance encounter of the protagonist with a writer. The protagonist invites the man to his house where they eat their meals and spend their time talking and analysing a plethora of different topics concerning life. A great and fairly short book.
Next are the short story collections:
It's Time for Chocolate by Loty Petrovits-Androutsopoulou
This is a collection of short stories written for children, but these are some of the most beautiful and moving stories I have ever read. They take place at around the time of World War II in Athens, in the neighbourhood where the author grew up. She has taken some of her own memories from the time of the war and how she experienced everything through the eyes of a child and transformed them into stories. The title is very cleverly explained in one of the stories – since chocolate was very rare to find during the war, whenever the author and her friends were treated to some they were ecstatic. Thus, eating chocolate became their happy moment, and whenever in their later lives they felt the need to feel happy again, it simply meant that 'it was time for chocolate'.
Black Pearls by Fotis Thalassinos
I really liked the ideas behind those short stories, but I felt that their execution on paper was not as successful. The language was nice in general, even though at times it seemed that the author was trying too hard to sound lyrical and poetic, which resulted in a prose that seemed forced. I wouldn't say that these stories are like pearls, as the title suggests, but they surely are something different from the greek literature that I usually encounter.
Continuing with the two poetry collections:
The Time In-between by Mira Nileou
 I stumbled upon this marvellous poetry collection on a used bookstand in the centre of Athens. It was a very slim and very cheap book with an interesting-sounding title, from an author I had never heard of before (and about whom I have still not found absolutely any information), so I simply had to purchase it. I haven't read much poetry in general, but I can tell when a gem lands on my hands. This book definitely belongs in that category. All the poems were marvellously written in the most lyrical manner. Needless to say, it became an instant favourite of mine.
Emotions Mean the World by Marika Lamprou
Another great poetry collection which I read at the beginning of summer, but which also, in retrospect, didn't leave me a very lasting impression.
The play I read was:
Plutus by Aristophanes
I tried to read this in the original language, but I failed miserably, so I reverted back to my modern Greek translation. I really enjoyed reading this play. I hadn't read an entire play of Aristophanes so far, just bits and pieces here and there, and I feel so satisfied that I finally read this in its entirety. The satire was sublime and the allegories so excitingly brilliant. This might actually be the first book on my list that has been translated to other languages.
And, last but certainly not least, the essay:
The Saviors of God (Ascetics) by Nikos Kazantzakis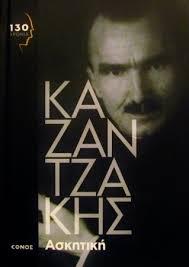 Probably one of the most well-known modern classic Greek authors, Kazantzakis' works have been widely translated. His name might ring a bell to some of you, even. This book is in essay form and he discusses and analyzes various philosophical and existential problems among other topics. His writing style is superb and reading this book has wet my appetite for more of his magnificent writing.
I hope you enjoyed this post. I also hope the fact that I included mostly books that haven't been translated in English yet didn't upset you much.