Of Suzanne McCourt's debut, The Lost Child, the Weekend Australian writes that 'there's a watchful intensity to McCourt's writing, a remarkable ability to discover within the most concrete details a rich and raw emotion'.  The Lost Child takes place in Burley Point, a fishing village in southern Australia, during the 1950s, and has been compared to work by the likes of Anne Tyler and Eudora Welty.
Sylvie Meehan, our child narrator, is just four years old when the book begins.  She is perceptive; she notices and relays everything which she observes, even if she does not quite understand it.  McCourt constantly reminds us that she is an impressionable child: 'I am keeping quiet and being good like Mum says I should', she tells us quite early on.  Of her father, Sylvie says, 'He is still wearing his good shoes.  I know his toes inside those shoes are as white as crayfish meat.  I wish his toes would grow into crayfish legs and get caught in a crayfish pot and cooked and cracked open at the fish factory and his white toe meat plucked out by the women picking fish: that is my wish'.
The Lost Child spans the twelve subsequent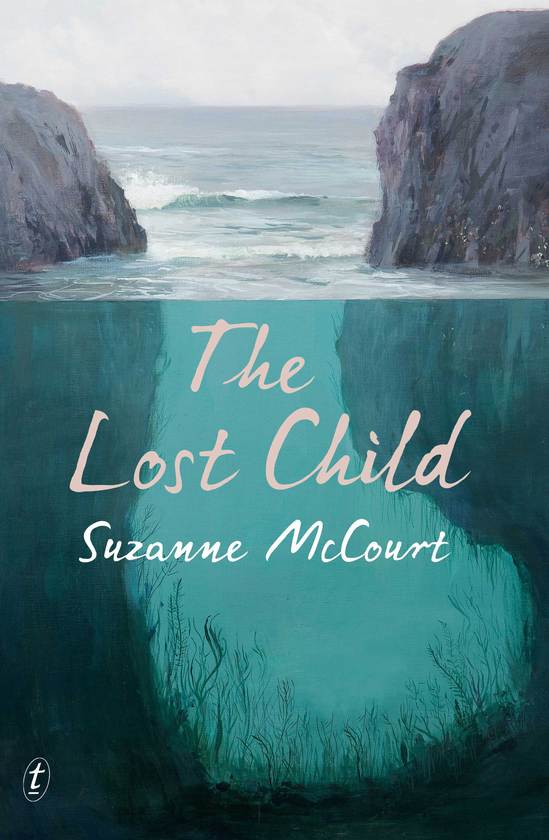 years of Sylvie life, and is hailed as a 'gut-wrenching and sophisticated coming-of-age story'.  Her childhood is not an overly happy; despite having friends, she is often desperately lonely, and her parents are odds with one another.  Their divorce isolates her even further.  It is when her elder brother Duncan goes missing that she really begins to blame herself for her situation, thinking that his disappearance is all her fault.
From the outset, McCourt's childlike descriptions are written so well: 'On the mantelpiece, Mum is a bride with a mermaid tail and a frothy veil', 'I am full of scorching air and angry words', 'Mrs Crank looks like a fox with bushy, red hair', and 'Under the blanket, I choke on dead fairies'.  Many of the sentences which the author weaves are quite enchanting, particularly in the novel's beginning.  McCourt has filled the first few chapters of The Lost Child with musings which are of the utmost importance to children, and which endear us to Sylvie in consequence: 'I wish I had money to waste from trapping rabbits like Dunc, instead of sixpence inside a pig that I can't get out'.  The sense of place has been well built, particularly with regard to the comparisons which Sylvie makes: 'I put my head under the blanket.  I am a wombat in a hole full of hurt and hot air', and 'My fingers are witchetty grubs, wrinkled and white', for example.  The plot within The Lost Child is sometimes quite unexpected; one can sense that something unsavoury is about to happen, but it is not always easy to guess what that might be.  A few of the scenes are quite violent, overly so at times.
Whilst the idea of The Lost Child and the use of an unreliable narrator such as Sylvie works well on the face of it, she often felt a little too wise for her age.  Some of the language used by McCourt seems far too advanced for a character so young to understand, as do some of the phrases used in the stream-of-consciousness narrative: 'We tear into the bush on the other side of the bush, crashing through bracken and banksias, wattles and heaths', for instance.  I cannot personally imagine a five-year-old crafting such a sentence.
The pacing feels a little unsuited to the plot at times too; time passes oddly in The Lost Child, so Sylvie is sometimes one or two years older from one chapter to the next, sometimes with no real indication for initial few paragraphs – or pages – that such a leap has happened.  The writing style does not perceptibly mature as the novel goes on, and this gives one the feeling of a day-to-day continuation within the novel, rather than subsequent years elapsing.  The only real progression which occurs is the way in which as she grows, different things occupy her mind – from pleasing her father with a gift as a four-year-old, for example, to developing a crush on her teacher when she is eleven or twelve.  It is perhaps worth mentioning too that Duncan does not go missing until after the halfway point in the novel, and it seems a little strange that this incident, despite it being of the utmost importance, is given away in the book's blurb.  Overall, my review of The Lost Child is rather a mixed one, but if you want to meet an interesting child character, I would definitely recommend picking up the novel.
Purchase directly from Text Publishing's website